There are many different types of bathroom sinks available. Two of the most common are drop-in and undermount styles.
But which one is best? 
Both drop-in and undermount sinks have their own functional and aesthetic appeal. An undermount emphasizes the look of your countertop, while the rim of a drop-in is an important part of your decor. 
Another consideration is which room the sink will go in, such as the master suite, children's bathroom, guest bathroom or powder room. You'll also want to choose a sink that fits the counter space you have. 
To help you decide, let's go over some of the key features of undermount and drop-in bathroom sinks.
Undermount Sinks
An undermount sink sits below the counter, with the rim affixed to the underside of the countertop. It's also sometimes called an under counter sink. 
Considered the more elegant option, it's great for showing off a beautiful countertop and gives you a clean, seamless appearance. An undermount sink is easier to clean, with no rim getting in the way of wiping spills directly into the sink. It also frees up more counter space. 
An undermount sink requires a sturdy countertop material like stone to support its weight and doesn't work as well with lighter-weight materials like laminate. It may leak if the caulk under the counter becomes worn. Finally, undermount sinks are more expensive than most drop-in models. 
Drop-In Sinks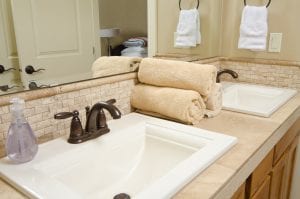 A drop-in sink sits in an opening in the top of the counter with a visible rim. It's also referred to as an overmount or top mount sink. 
It works with a wide variety of countertop materials such as stone, engineered stone, laminate or metal. You can choose a sleek, slender rim or one that is more prominent. An overmount sink is also about 50% less expensive than a comparable undermount sink of the same size and material. 
To install, the sink fits into an opening in the countertop and is fastened with special clips. Caulk secures the rim to the countertop. A drop-in sink doesn't require polishing of the cutout edges, and there is less risk of water damage to the opening.
Drop-in sinks can be harder to clean, as it is more difficult to wipe spills directly from the counter into the sink. The rim can also collect dirt and dust, so special care must be used when cleaning. In addition, the rim takes up what could have been extra work space on the countertop.  
If you have questions about choosing the best sink or other bathroom updates, contact us at Elite Renovations & Design or call 417-708-8393. We'll give you a free quote on a bathroom remodel and answer all of your questions to get your project started.